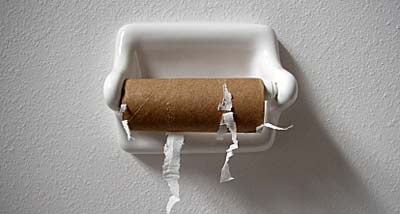 An empty toilet paper roll is usually a bad thing. The thought sends folks to stores whenever snow is in the weather forecast. Many a household argument has begun with "Who used up the toilet paper?!" bellowed from behind the bathroom door.
The lowly toilet paper roll is a workhorse as far as crafts, science experiments, musical instruments and imaginary play. And best of all, it's free and almost always readily available.
The next time you are looking for a hands-on activity to do with at your Read-Aloud or with your kids, check out these TP roll ideas.
Science
Read books about buildings like Let's Try It Out With Towers and Bridges by Seymour Simon
or
your favorite version of The Three Little Pigs. Then try this experiment to see how strong those tubes really are.
Read
Me and My Amazing Body by Joan Sweeney
and then make a
skeleton
of TP tubes.
Read
Roller Coaster
by Marla Frazee and then build
a
marble run
.
Find your favorite version of Jack and the Beanstalk or
read Growing Vegetable Soup by Lois Ehlert and then
grow some seeds in a tube.
Read
Once Upon a Starry Night: A Book of Constellations
by Jacqueline Mitton and then make a TP telescope and look at the
stars
.
Read about motion, vehicles or rockets and then make balloon-powered cars, a rocket, or a
ping pong ball launcher
. Read Sheep Blast Off by Nancy Shaw, Forces Make Things Move by Kimberly Brubaker Bradley, Poem-Mobiles: Crazy Car Poems by Douglas Florian for inspiration.
Music
Read about your favorite musicians or try the Happy Hedgehog Band by Martin Waddell or Punk Farm by Jarrett J. Krosoczka and then make your own TP roll band!
Kazoo
Maracas and
shakers
Xylophone
The internet had lots of ideas for
animals
and other
toilet paper roll crafts
. You'll find binoculars, superhero wrist cuffs, flowers, wreaths, games and
lots of other ideas.
Just pick a book related to your craft, or one that is about imagination (like Not a Box by Antoinette Portis) and dive right in.
If you're inspired to use toilet paper rolls at a Read-Aloud, check with The Reading Connection office. We have a good supply.
To receive credit for this online training, please
fill out the form here
.